The Canada Rubber – Silver Roof system was developed to repair leaking roof coverings or renovate them, without having to break existing layers and dispose of them, or costly replace the entire roof.
Thanks to the Silver Roof technology, the roof surface is protected with a tight, durable, seamless, flexible bitumen membrane and finally covered with AL 150 silver asphalt varnish  .
The Silver Roof coating is resistant to UV radiation, in addition its reflectivity (reflection of sunlight up to 80%), reduces heat emissions, increasing thermal comfort inside the building.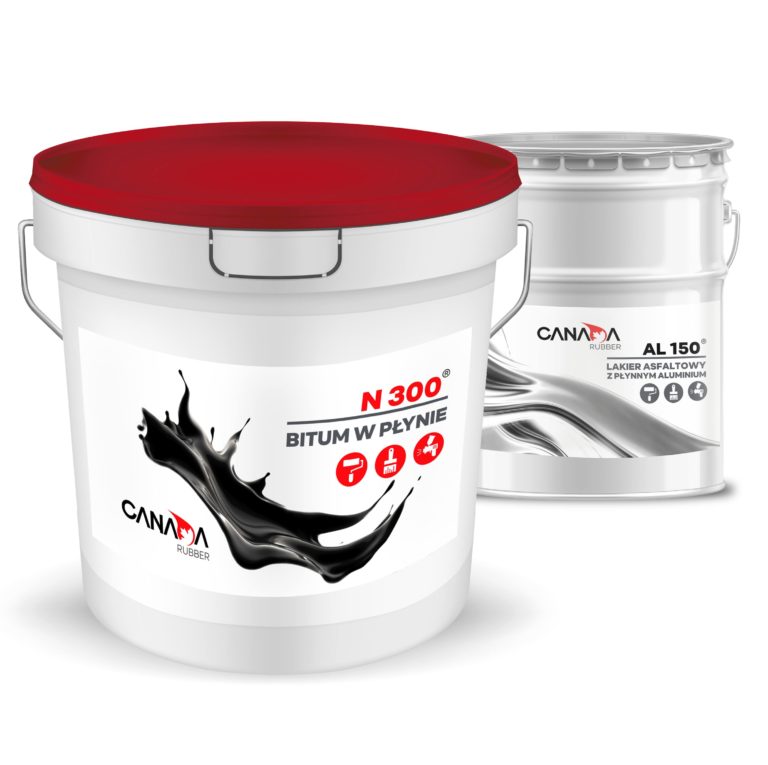 Before starting work, the roofing felt must be properly cleaned using pressure washers until all dust and dirt has been removed.
2. Protection of connections, chimneys and other roof infrastructure and places of contact of the roof with attics
We carry out protective work using a brush, Canada Rubber N 300 material and geotextile of appropriate width. A properly made connection should adhere tightly to the substrate, eliminating the possibility of wrinkling of the nonwoven fabric, which may result in later leakage of the coating and poor aesthetics of the works carried out.
3. Application of Canada Rubber N 300 bituminous coating on the entire roof surface
The application can be done manually using rollers or brushes, or machine-dedicated HSS spray aggregate. The application process is single-layer. In the case of a heavily degraded substrate, apply a second layer, remembering to keep the technological break of at least 24 hours depending on the prevailing weather conditions, allowing the coating to dry freely and fully vulcanize the first layer.
4. Application of silver asphalt varnish - the final layer
The last layer of the system is the application of Canada Rubber AL 150 varnish .
Before starting the application, thoroughly mix the product (electric stirrer) until a uniform silvery structure is achieved. The varnish can be applied with the help of the HSS device after choosing the appropriate nozzle or manually with the help of rollers. Varnish AL 150 should cover the entire surface with insulated liquid rubber. The varnish should be applied approximately 7-14 days from the end of work with the bituminous membrane or earlier if the weather conditions are favorable for the process of full vulcanization of rubber.