Canada Rubber offers system coatings based on polyurethane. DROOF 250 is the top product of polyurethane systems.
DROOF 250 is a high quality liquid, permanently flexible one-component waterproofing membrane, applied and cold-cured, forming a resistant waterproofing coating with a very long durability.
DROOF 250 membranes are made of pure hydrophobic elastomers of polyurethane resins, which provides them with excellent mechanical, chemical and thermal properties as well as high resistance to UV radiation and other atmospheric factors.
DROOF 250 cures as a result of contact of the product with soil moisture and atmospheric air.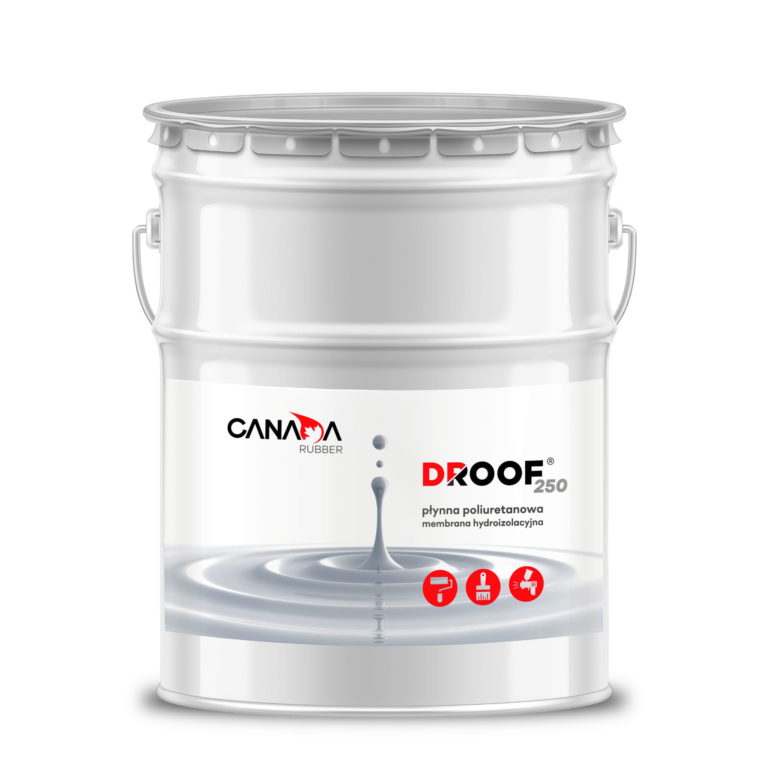 roof waterproofing,
waterproofing balconies, terraces,
waterproofing pedestrian and vehicular traffic platforms,
waterproofing of old bituminous, tar, acrylic and EPDM and PVC membranes,
protection of polyurethane foam insulation,
waterproofing and protection of concrete structures such as bridges, tunnels, stands, parking lots.
ease of use (roller or spray application),
creates a uniform seamless coating,
frost resistant
resistant to root growth, so it can be used in green roof systems,
bridges ground scratches up to 2 mm, even at -10 ° C,
excellent water vapor permeability, breathable membrane,
excellent resistance to weather conditions and UV radiation,
seals old bituminous and tar paper coatings without having to remove and dispose of them,
provides high solar reflection coefficient, supporting thermal insulation,
maintains its mechanical properties in the temperature range from -40 ° C to + 90 ° C,
excellent adhesion to almost any surface,
can be used to isolate pedestrian and car routes,
excellent resistance to detergents, oils, sea water and household chemicals,
easy repair of mechanical damage.